Instructions and information about the Sukhoi SU-26 from J&M Aviation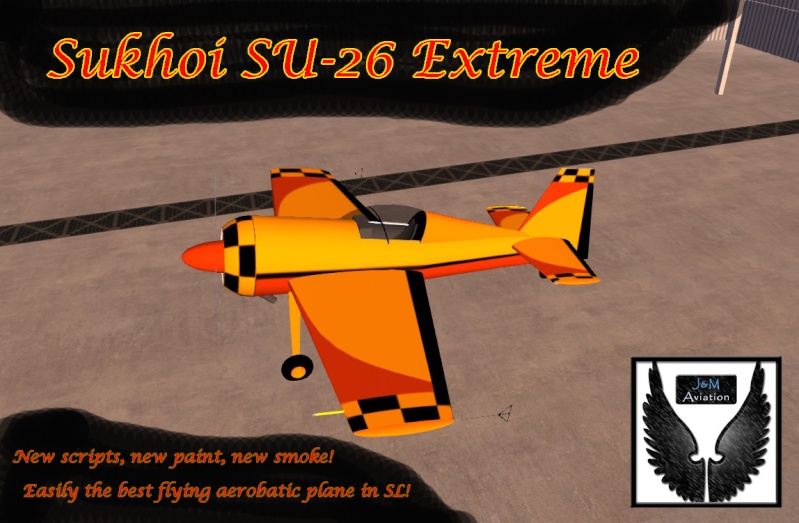 Thank you for your purchase of the Sukhoi SU-26 by J&M Aviation, designed and built for Second life fliers by a real life flier Josh Noonan. This is a fun flying aircraft scripted for the pilot only. It has skywriting smoke for added interest when at airshows.
In the box you have the Sukhoi SU-26 V2 Display aircraft (not for flight), the Sukhoi SU-26 V2 Base (rez on ground), the Sukhoi SU-26 V2 wearables ( wear this only) and the Sukhoi SU-26 V2 Flight Manuel (your reading it).
REAL LIFE HISTORY:
The Sukhoi Su-26 prototype first took flight in June, 1984 with test pilot Eugene Frolov at the controls. The Su-26 embodied a number of innovations that would revolutionize the air show and competition world, but high on the list was its composite-intensive construction. Its fuselage is built around a steel-tube truss and covered in a fiberglass shell, and its wings are built entirely of composite materials. This construction method lends itself well to light weight and a smooth finish, both principles that Russian designers usually shunned. The earlier Russian aerobatic aircraft were notoriously heavy and bristled with rivets the size of pencil erasers.
Developing nation: Russia.
Manufacturer/designer: Sukhoi Design Bureau.
Production line:Moscow.
Type aircraft: Unlimited aerobatic competition aircraft.
First flight: June 30, 1984.
Cockpit crew:one pilot.
Wing span: 7,80 m.
Wing area: 11,83 m².
Fuselage length: 6,83 m.
Height: 2,89 m.
Engines: one Vedeneyev M-14P piston engine rated 270 KW.
Propeller: constant speed three blade propeller.
Weight: empty: 736 Kg.
Max. take off weight: 1.206 Kg.
Horizontal speed: 310 km/h.
Max. speed: 450 km/h.
Landing speed: 115 km/h.
Service ceiling: 4.000 m.
G-limits: +12/-10 g.
Roll Rate: 400 degrees/sec.
Range: max. range 800 km.
Performance: max. rate of climb at sea level 960 m per minute.
Rez the Sukhoi Su-26 base and select "Fly" from the PIE menu.
(Please make sure that any ANIMATION OVER RIDES are OFF)
Now you are seated in the pilots seat and ready for flight. Now locate the Sukhoi Su-26 wearables in your inventory and select "wear" from the pie menu.
Type "st" in chat to start the engine and then use the "page up and Page Down" keys for the power lever. When at the end of the runway advance the power to 60% to 100% and bring the nose up with the "down arrow". (You have the option of using "mouse Look" if you wish). at 2 meters you will have bank control using the "left and right" arrow keys. Cruise at 60% and climb like a rocket at anything above that.
When ready, reduce the power to 50% and the Sukhoi Su-26 will gradually drop it's nose and descend (a cruise descent is possible at any power setting with the nose down). When you are above the end of the runway reduce the power to 30% and the Sukhoi SU-26 will descend to a landing using intermittent down arrow to flare. taxi at 10% - 20%.
"Dynamic Camera Use" Type "c" in the Chat window to turn the Dynamic Camera "on and off" This camera is useful when flying outside the cockpit (non-mouse look flying) for aerobatics.
The flight controls are standard for SL FLIGHT SCRIPTS:
KEYBOARD COMMANDS
(with Chat window open)
Page up = power increase
Page Down = power Decrease
Forward Arrow = Nose Down
Back Arrow = Nose UP
Left Arrow = Bank Left (Turn Left on the Ground)
Right Arrow = Bank Right (Turn Right on the Ground)
ss = Sky writing Smoke off
so = Sky writing smoke orange
sg = Sky writing smoke gold
sb = Sky writing smoke black
(Use ss to turn off smoke between changing colors)
dl = delete
(with Chat window closed)
e= power Increase
c= power Decrease
w = Nose Down
s = Nose Up
a = Bank Left (turn Left on the Ground)
d = Bank Right (Turn Right on the Ground
"st" for start/stop
Updates are free and will be sent automatically from my Hippo Vend Update server. IM me with and comments, questions, feature requests or just to say hi.
Josh Noonan, RL Pilot and owner of J&M Aviation in Second Life.